So a few months ago, my partner and I started using Trello to organize tasks and share between ourselves. We've tried a few different things over the years, and she always hates it when I find something new because she knows I'll eventually make her shift over to a new system.
Trello seems to be different. Flexible enough to organize projects or simple todo list, and easy to share between ourselves (and others if we ever seem to need it.) You make a board, and then add lists to it. You then add cards to the lists that are the actual todo items. Cards can have members, due dates, file attachments, checklists and more. The standard free edition has been enough for us, as we don't find the need to add stickers or custom backgrounds to our various boards.
We have a variety of boards for different aspects of our business and our personal life that we share, and boards for our own parts of the business that aren't shared. You can move cards from one list to another through drag and drop, or from one board to another.
I'm a list maker. For a long time (and still today), I tend to grab a piece of paper, fold it in half and work on my Today's Todo list, and any other pieces of info that need to be quickly organized into a list. Bills for the day, phone calls that need to be returned, etc. Typically this list is non-project items, but things that just need doing. Sometimes it becomes a project or multi-part list that becomes its own list on Trello.
So now I've started doing a Today's Todo list in Trello. Step one is doing the list vomit, everything that comes to mind that I need to do during my day, just naming the task and the estimated minutes to do it. Some things end up taking longer than estimated, but usually I'm pretty close on my guess.
So step one, make the list.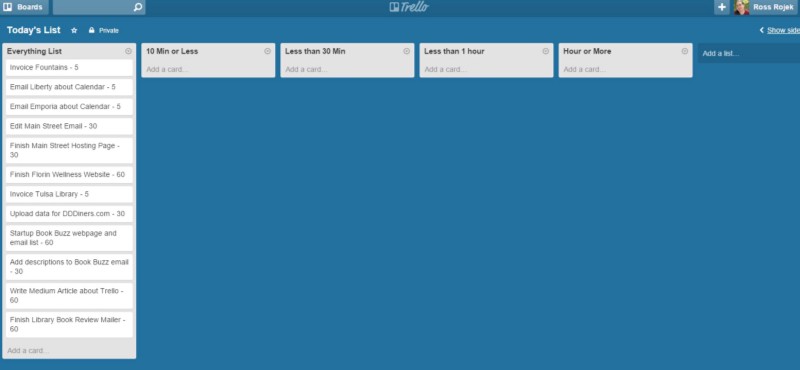 Step two, sort the list into time estimates. Less than 10 minutes, Less than 30 minutes, Less than an Hour, More than an hour. So once the initial todo list is done, I do a quick batch of drag-and-drops to get it all organized by time.

With that, I float the most important tasks on each list, most important at the top to least on the bottom. You can add a Done list to the end if you're the kind of person who likes the end of the day satisfaction of seeing what you crossed off. I just delete as I go along. Something turns into a project, I can easily move it from the Today's Todo board to any other board and list and move on with the things in front of me.
So this system lets me do a couple of important triage tasks. First, I can quickly add up the total time I think I need to get everything done and see if it outnumbers the amount of hours in my day. Happens more often that I like. In that case, those get moved to another board, or broken down into smaller tasks that can be done during the day. Second, I can find things to do that fit on my schedule. Got 20 minutes before that phone call coming up? Do something from the less than 30 minute list. Trello is available on my phone as well, so easy to check on what I can do even when I'm away from my desk.
Everyone has a different way of organizing their todo list. This is mine.
---
ROSS ROJEK is the CTO of GoLocalApps. GoLocalApps has developed and launched more than 90 apps since 2010. Best-selling apps include Diners and Drive-Ins TV and Secret Menu Starbucks Pro Edition. Follow him on Twitter@golocalapps.