Shortly after Business Insider released this teaser to their new report, "The mobile app boom has ended," — Read it HERE — suddenly every tech blog was running the same headline and their own analysis of the just how screwed the indy developers were now. Searching "The mobile app boom has ended" returns 670,000 results in less than 4 days. That's pretty click-baitly, and everyone hopped on that bandwagon.
The average smart phone user, on average, downloads zero apps per month.
The top 15 app publishers' downloads fell 20% over last year.
Only Uber and Snapchat show 100% growth over last year (of the top 15 apps)
Ninety percent of all app store revenue goes to the top 1% of all app developers.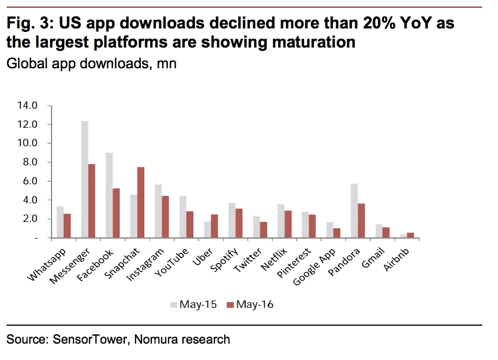 There are a couple of true factors here, but everyone is overlooking several additional factors in the race to declare the bubble bursting.
Smartphone penetration is still going on. Next year, its estimated that 34% of the world's population will have a cell phone. While many of those people probably won't be playing Angry Birds, they will continue to use local social media tools, messaging platforms, and an unknown number of local apps to solve problems that we in the first world don't even know exist.
QZ has a good summary of a new report from comScore that shows that 65% of US smartphone users download zero apps per month.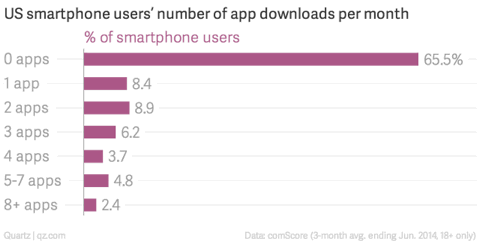 But that's still not bad news. Thirty-five percent download one or more apps every month. This is like saying that 65% of web users don't visit a new web page on a monthly basis. I can see that. Plenty of people have their routine. They visit Facebook, Yahoo News, and six other sites…and that's it. If they visit something new, its because they got a link from a friend in their Facebook feed. But I don't imagine people will stop making new websites just because PC sales are flat or down and the average PC user only visits the same 10 sites every month. Why would apps be different?
There are some valid points within this, but they aren't "the app sky is falling." The right product will find a place, even with broken app store search (that probably won't be fixed by Apple running ads in the search results). But there are plenty of niche places indy developers can, and do, make money. We're a good example.
We have one app that hit #1 in the iTunes Food & Drink category for two weeks. It hit the top 60 overall in iTunes during that period as well. It's an unofficial guide to the TV show Diners, Drive-Ins and Dives. Even with more than fifteen app competitors (including the free, official app from the Food Network), it still sells every month — not as well as 2012, but still a regular income stream. We continue to make other niche apps that make quick hits of sales up front and long tail sales for years after. Our Starbucks Secret Menu app is a good example of that.
We make apps for clients, using the same code base we use for our own apps. This limits some of the projects we take on, but makes us very profitable and competitive in our market — geolocation-driven apps for associations, organizations, and governments. We've done more than forty apps for wine associations and downtown groups that save them money on printing paper maps or flyers to help their visitors get around. We've worked with cities setting up informational apps to help local residents find the correct departments to pay bills or report local issues. Tourism apps, directing people from one point of interest to another. Google maps can't focus down to a single interest like a curated app can.
We're expanding our offerings to new features for clients, still focused on helping people get the right local information when they need it. From adding in beacons for art walks or historical tours, to letting you find the exact set of wineries in your area that have Chardonnay for your Mother-In-Law, Zinfandels for yourself and are dog-friendly. Good luck getting that search in Google or Foursquare. But, with deep-linking, make that search and it'll eventually drive you to one of our regional wine apps.
Apple's new subscription model opens up a number of doors for indy developers, ourselves included. Want to track your visits to all of the locations featured in Diners, Drive-Ins and Dives? Don't laugh, plenty of people do, and they let us know. Now our existing user base that's already purchased the Diners app is now a new revenue stream by adding in one new feature on subscription. Plenty of developers are going to find new ways to make small amounts of money from existing products or new products, and if you keep a user into year two, you'll make an extra 20% revenue or so.
Niche apps supporting indy developers aren't going anywhere. Sure, there are lots of dead apps in the app stores that should be deleted or get downgraded in search. I'm guessing if you don't update your code at least every other major release, your app probably shouldn't show up in the top 50 results for any search. That'll help clear out some of the underbrush that gets in the way of app discovery.
There are still millions of new apps to come. And I'm not talking about the next Flappy Bird lightning in a bottle sort of breakthrough game. Millions of existing business and organizations haven't yet gotten their app going. Sure, a Rainbow Chamber of Commerce app isn't going to be the next Facebook, but it doesn't need to be. It just needs to provide value to its members and supporters in excess of its costs. And that isn't hard anymore.
We're only starting the second generation of apps now, which, in internet terms, means we're only getting past GeoCities and AOL chatrooms. Uber's new UberRUSH API can help thousands of small, yet-launched businesses skip having to develop the last mile aspect of their business and focus on just getting a service or product launched. No one needs to create user management tools or convince people to sign up for a new service when Facebook, Twitter, and Google+ integration makes one-push signup and login almost instant.
Facebook, Snapchat, Kik, Uber, Instagram, Twitter, Whatsapp and the like may be the 800-pound unicorns currently dominating the landscape, but then so were AOL, GeoCities, Yahoo, Netscape, AltaVista, and Angelfire 20 years ago. Smart phones still haven't reached half the world population, and they're much easier to get to the world's poorest and least connected than a beige box, monitor, and hardwired internet line. We don't know what they'll need, but it probably isn't going to be Facebook.
Here in the U.S.? Still billions of app downloads to come and tens of billions of dollars for app developers. From indy games and hyper-local curated guides, to local meal ingredients in the box sourced locally and delivered by an on-demand outsourced workforce, we don't even know what's coming down the pike at us.
The sky isn't falling Chicken Little, it's just getting brighter.
Tl;dr — Top line app downloads may be down or slowing, but there is still a lot of growth and potential in the market we haven't yet seen.
References:
http://www.businessinsider.com/the-mobile-app-boom-has-ended-2016-6
http://www.statista.com/statistics/263441/global-smartphone-shipments-forecast/
http://www.recode.net/2016/6/8/11883518/app-boom-over-snapchat-uber